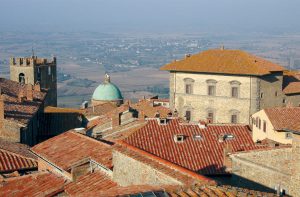 Where we are
The City of Cortona
Today, Cortona is still very similar to when it was named Curtun and was one of the twelve capital cities of Etruria in Etruscan times.
Cortona is surrounded by 3km of Etruscan and Roman walls that enclose precious traces of its history from Prehistory, until today.
Th MAEC Museum, holder of the historical and artistic memory of the city, is located in the middle of one of the two principal squares in Cortona.
The Museum is in fact located in the historical Palazzo Casali in Piazza Signorelli, Cortona.
By train 
Train line Florence/Rome: Terontola or Camucia train station.
Train line Terontola-Perugia-Assisi-Terni: Terontola train station.
Once you arrive at the train station you can reach Cortona by taxi or by bus.
By car 
Exit the motorway A1 at Valdichiana, then take the highway E45 (Siena-Perugia) following
directions for Perugia and exit at Cortona (Cortona San Lorenzo). From here follow the numerous directions for Cortona to reach the SR71 up to Camucia and then turn off for Cortona-Città di Castello.
By bus
If you arrive by train in Terontola, Camucia, Castiglion Fiorentino or Arezzo you can reach Cortona by bus. For more information, see the website
Autolinee toscane